Scarlet of the City of Devils - Demo
If browser version is not up to par try downloading the PC/Mac version.

Please Comment below, feedback for this game will be very helpful.
Dev Shadmare.

Music from the following.
80s 90s, Synthwave Chill Beat, Retro, Pop [No Copyright Sound] [FREE USE MUSIC] - Indigo
Synthwave, 80s, 90s[No Copyright Sound] [ FREE USE MUSIC ] - Alexander Nakarada - Succubu

INTL.CMD – Sunset City [Synthwave] 🎵 from Royalty Free Planet™

EVA – 失望した [Synthwave] 🎵 from Royalty Free Planet™

What the Rock - Hard Rock - Royalty Free Music
A demon punk 2d metroidvania hack and slash adventure game inspired by Dark Souls and Bayonetta. Explore the city at your own discretion and take down the toughest thug's demon-kind have to offer.
| | |
| --- | --- |
| Status | In development |
| Platforms | Windows, macOS, Linux, HTML5 |
| Rating | |
| Author | Shademare |
| Genre | Adventure, Action |
| Made with | Construct |
| Tags | 2D, Anime, Cute, Metroidvania, Singleplayer, souls-like |
| Average session | About an hour |
| Languages | English |
| Inputs | Keyboard, Xbox controller |
Download
Click download now to get access to the following files:
Scarlet Devil PC.zip
944 MB
Comments
Log in with itch.io to leave a comment.
The art style of it is beautiful and the mechanics seem to be very well thought of! My only nitpick is that it takes a little long to get to max speed from walking and the bosses hitboxes are a little wonky. But other than that, very solid!

Your game is super cool! I hope I can make a game as nice as this someday!
This Game is really Fun and Awesome, I mean It's been a while since I played this kind of game style, I really like it! The Characters are Cute and Cool, the Background really blend in the Game and that was Awesome! The Fighting Move was Pretty Amazing specially the Spinning Attack, I like doing the Spinning Attack because it's fun! But what makes this game really really really Fun is how the Enemies are Freaking Agile, Seriously? Their so much agile at dodging than Scarlet! Not only that but the Damage seriously hurt so much. I feel like their Overpower than the Heroine Hahaha... Oh! And also the Bosses are way to Over Power specially Ruda! One swing then O.K! Really? One Hit? Hahaha... Don't get me wrong, I'm not complaining! I Love the Game by the way. I'm just Frustrated! Oh and I found a bug, When I was in battle I suddenly pause the game but when I press Enter again the game won't unpause. I press every button on the keyboard but it still won't unpause, so I just restart the game. I hope you'll fix this in the Future. Over all this game is Fun! I Love it! Can't wait for the Full Game!
I Hope You Won't mind if I upload My gameplay of this Game in my YouTube Channel, I Want to share it with My Friends and to Others.
Thank You For The Game!
Keep Up the Good Work! :3
Thank you! I am working on the game as of this moment. Be on the look out for the health and attack upgrades! They will help you get the edge over the demons.
Also I want to report that, when I keep spinning in this corner while an Enemy is attacking I'll be suddenly teleported in this shop.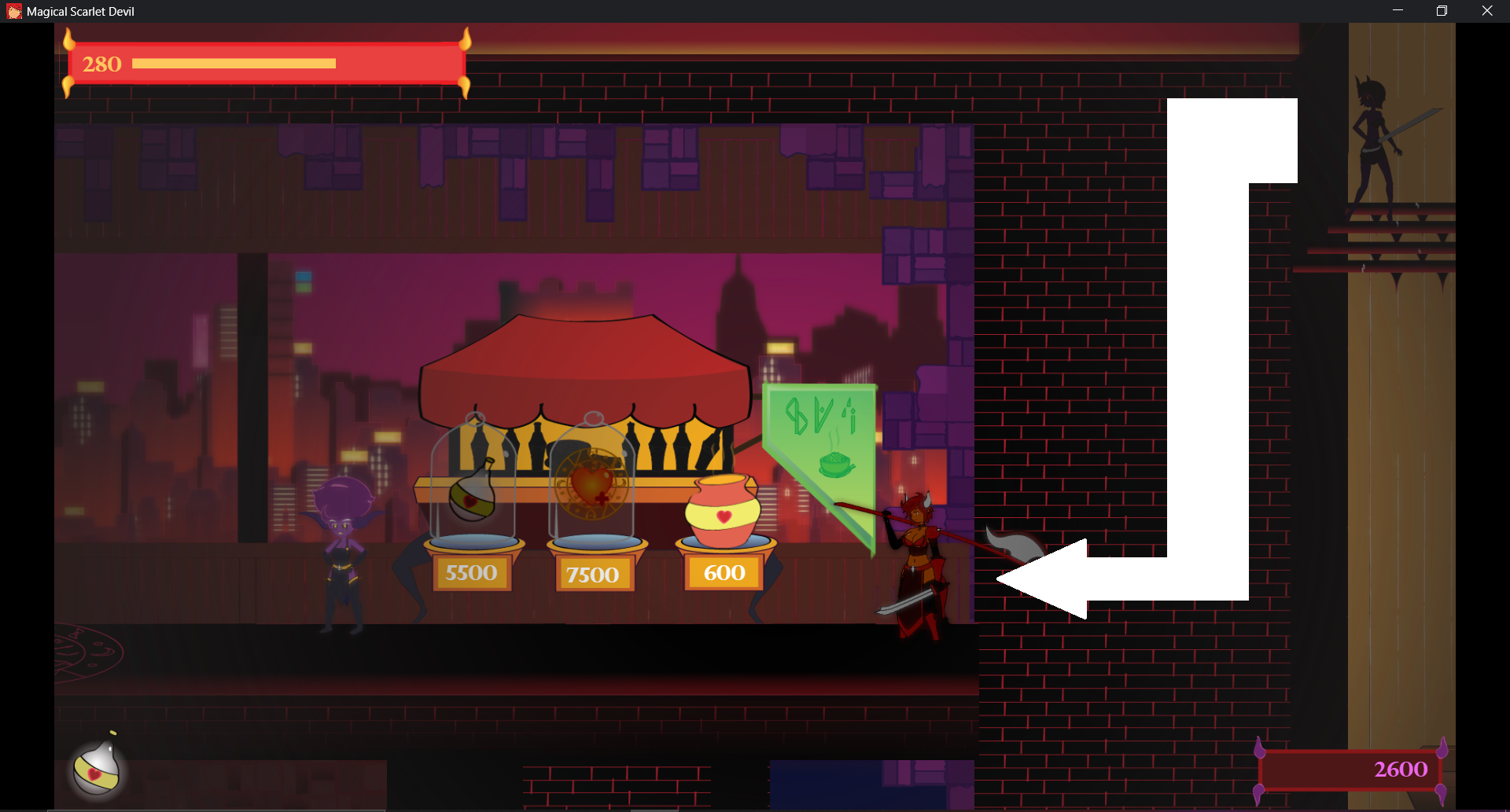 Crazy. I'll take a look and see what I can do. It could be a cool speed run glitch tho.
I liked it! Sound design was awesome.
intro fps is in the single digit territory.
Yo. I got a download version ready in case the browser version ain't doing it. The game is pretty big and I when out with the effects. I'll see if I can give the option to turn them off for the browser version.
- I dunno if it's only me but the framerate is slow af (maybe my machine is dying)
- Excellent animation on both player and enemy
- Maybe allow the player to skip the intro?
Cool thank! I'll see if I can turn off the effect to improve the framerate. Very big game
Add a download version. That should run better than the browser version.